Commercial
Ring Painting has specialized in Commercial and Light Industrial painting for decades. From banks to churches, schools to nursing homes, Ring Painting has the experience and manpower to complete your project on time and with superior results.
We also provide our customers with an array of specialty services including: vinyl wall coverings, acoustical wall coverings, fabric wall coverings, epoxy coatings, multi-colored coatings, staining, and dry fall coatings.
Many of our painters currently possess an OSHA Construction Safety card, affirming that safety, along with quality, are paramount to Ring Painting.
We also carry an array of badges and security clearances allowing us to provide governmental agencies and other high-security businesses with our services.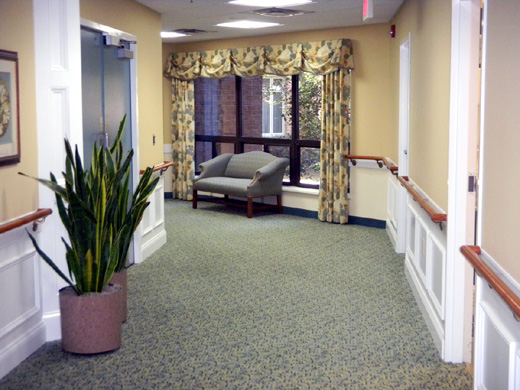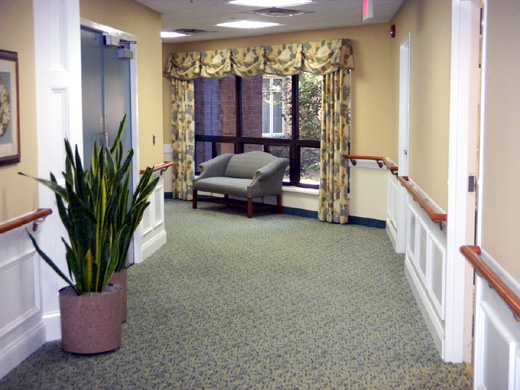 Please see just a partial list of our past clients below:
Arby's – Frederick, MD
Bank of Charles Town, Hedgesville Branch – Hedgesville, WV
Bank of Charles Town, Kearneysville Branch – Kearneysville, WV
Bank of Clarke County, Winchester, VA
BB&T, new branch bank on Edwin Miller Boulevard – Martinsburg, WV
Berkeley County School Board (North Middle School Addition) – Martinsburg, WV
Berkeley County School Board (Musselman High School Addition) – Inwood, WV
Berkeley Senior Services, buildout of basement area- Martinsburg, WV
Berkeley Springs Historic Bathhouse – Berkeley Springs, WV
Boonsboro High School Health Center – Boonsboro, MD
Briarwood Professional Park (medical buildings construction) – Martinsburg, WV
Brown Funeral Home – Inwood, WV
City of Martinsburg (Caperton Train Station) – Martinsburg, WV
Citizens National Bank (branch construction) – Hedgesville, WV
City Hospital (multiple projects – remodeling 2nd, 5th & 6th floors) – Martinsburg, WV
Crown American Corp. (store interiors) – Martinsburg, WV
F&M Bank (Blakeley Branch remodeling) – Ranson, WV
(Hillsdale remodeling) – Charles Town, WV
General Adam Stephen House – Martinsburg, WV
Green Bay Packaging – Winchester, VA
IHS of West Virginia (remodeling of nursing home) – Charles Town, WV
Inwood Urgent Care remodeling – Inwood, WV
Jefferson County Board of Education, Charles Town, WV
Blue Ridge Elementary School – construction and remodeling
Harpers Ferry Junior High School – classrooms construction
Jefferson High School – classroom additions
South Jefferson Elementary School – classrooms additions
Wright Denny Elementary School – additions and remodeling
Shepherdstown Elementary – media center addition
Jefferson Security Bank (branch construction) – Martinsburg, WV
Jefferson Security Bank (branch renovations) – Shepherdstown, WV
Johnsontown Bible Church (new construction, gymnasium construction and pavilion build-out for classrooms) – Hedgesville, WV
Keene Enterprises, Inc. (McDonald's Restaurant remodeling at four locations – Hagerstown, MD and Martinsburg, WV
Kraft Foods – Winchester, VA
Martinsburg/Berkeley County Recreation Center (Berkeley 2000) – Martinsburg, WV
Meadow Dialysis Center – Hagerstown, MD
Morgan County Schools, Berkeley Springs High School restrooms renovations – Berkeley Springs, WV
Mountaineer Mart remodeling – Martinsburg, WV
Needmore Fire Department – Needmore, PA
Primetime Rentals – Hagerstown, MD
Riverton Church – Front Royal, VA
Robinwood Medical Center – Hagerstown, MD
Royal Vendors lobby renovations – Kearneysville, WV
Sexton Can Company, Martinsburg, WV
Shepherd University – Knutti Production Studio, White Hall window replacement,
Snyder Hall window replacement – Shepherdstown, WV
Shippensburg University Library Renovations – Shippensburg, PA
Southern States renovations – Martinsburg and Ranson, WV
St. James School – Kemp Hall – St. James, MD
U.S. Silica (various renovations) – Berkeley Springs, WV
VA Medical Center (numerous jobs) – Martinsburg, WV
Valley Health – Woodstock, VA
Westminster-Canterbury renovations – Winchester, VA
White Oak Pediatrics – Hagerstown, MD